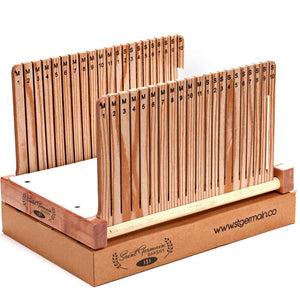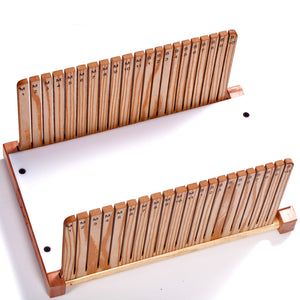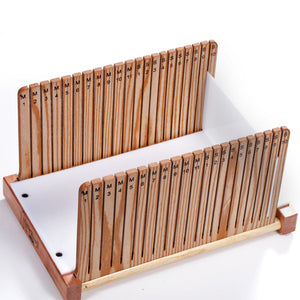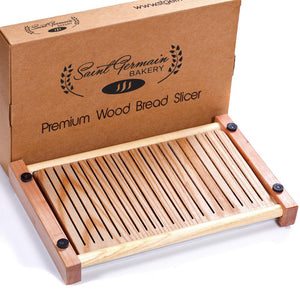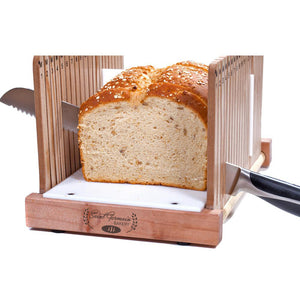 Premium Solid Wood Bread Slicer Board - Elegant and Foldable Bread Slicing Guide with 2 Grooves - Cuts normal and thin
NATURAL MATERIAL - The bread slicer is made of high quality, natural and solid wood construction. It is food safe for cutting your bakery and homemade bread.
UNIFORM SLICES - The sides have 2 different grooves clearly marked to guide the bread knife achieve uniform slices. It's so easy to have evenly sliced bread! Use a 10 inch very sharp serrated bread knife for best results.
FOLDABLE - It has spring mechanism that lets you fold neatly and easily to put away after use. It's compact so you can fold flat for storage even inside a crowded drawer or cupboard.
EASY TO USE - It can hold a variety of loaf sizes and very easy to use. When you open up, it pops and locks into place.It has a side brace that stabilizes and acts as slice guide. Set the brace to your desired thickness and start to cut up your favorite loaf.
TOP PERFORMANCE GUARANTEE - This solid wood bread slicer with its attractive and efficient design will make a difference how you eat your toast or sandwiches. You will surely enjoy having a sliced bread the way you want it. It makes slicing of freshly baked bread so easy. But if you're not happy for whatever reason, simply return it for a FULL REFUND.
DOCUMENTATION: