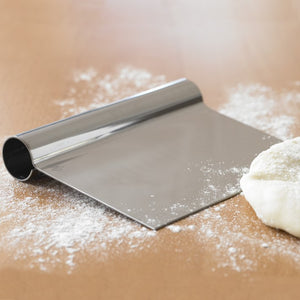 Your life as a baker or baker wannabe will be much easier when you have the Saint Germain premium bench scraper! Our premium stainless steel scraper is very well- built and looks beautiful. It lets you lift, turn and cut pastry dough with ease. Its stainless-steel edge cleanly scrapes extra flour away from work surfaces. It is also perfectly sharp to cut and portion dough effortlessly. It is completely stainless steel and is dishwasher safe, making it a must-have for all bakers & bakers wannabe.
Designed and developed by Saint Germain Bakery.
Made of premium stainless-steel.
Dishwasher safe.